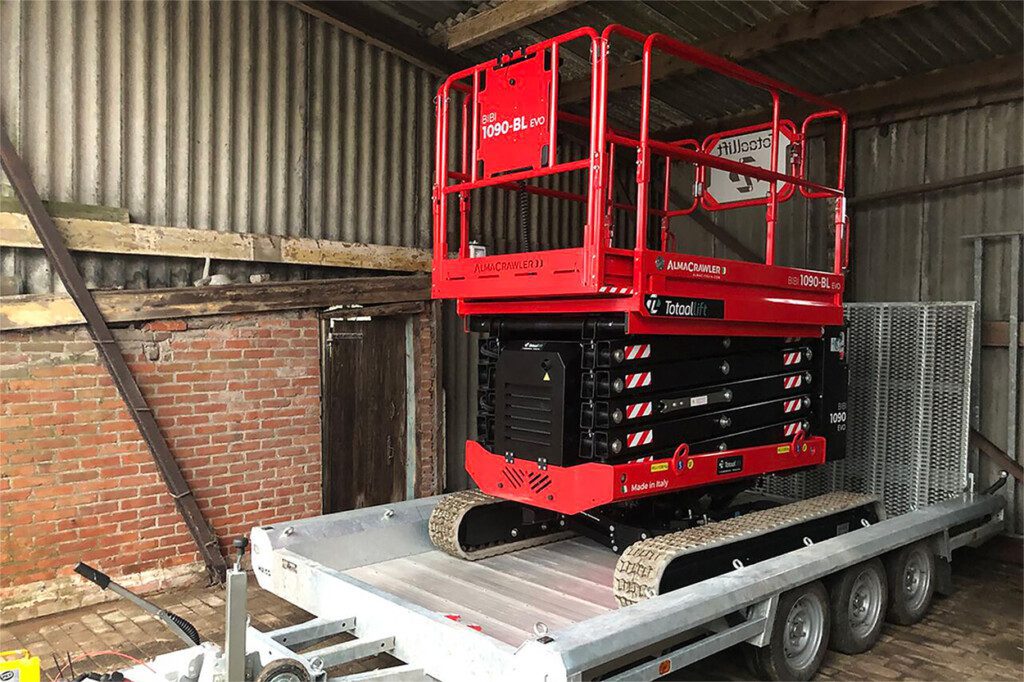 You will probably have the opportunity to work at height using a scissor lift in the near future. While this type of lifting machine has many advantages, its main disadvantage is undoubtedly its transport.
Obviously, a scissor lift is less mobile than a truck-mounted lift, for example.
In some situations you will have to move your scissor lift from one location to another. In this article we explain how to transport a scissor lift safely.
Prepare the transport vehicle
If you are using a trailer and not a truck for transport, consider placing a nose jack under the front of the trailer. Adjust it so that it is two centimetres away from the trailer. This will prevent the trailer from tipping forward.
Loading the scissor lift
Your task now is to move the scissor lift onto the trailer or truck. This step is straight forward.
Securing the scissor lift
Even if the transport distance is short, it goes without saying that the scissor lift you are going to transport must not move. This could lead to a road accident. To properly wedge each wheel of the scissor lift, there is no better advice than to use wooden blocks. Wooden blocks that you will have to screw into the trailer.
Secure the machine
At this stage we recommend that you check that the fuel supply to the lift is switched off. If the machine runs on diesel or petrol, you must ensure that the fuel tank has been properly secured and that there is no risk of fuel escaping during transport.
You can never be too safe in terms of protection. So you can also disconnect the battery terminal. For two reasons:
to reduce the risk of arcing
to ensure that the engine does not start during transport.
Fixing the machine
 Before you leave for your destination, you must ensure that the scissor lift is properly attached to the trailer. This can be done using chains, nylon straps and ties. These will be used to secure the machine to the edges of the trailer, to ensure that it will not move. Two chains or straps can be used to create four anchor points, one at each corner of the machine.
We hope that the instructions provided in this article have given you a good understanding of how best to transport a scissor lift. However, before undertaking any type of transport, it is important that you consult the instruction manual for the machine in question. The manufacturer may have included specific instructions on how to secure and transport their machines. If so, you should follow these instructions.