CPL receive QVM Approval from Ford
Anna Ramsden
CPL are delighted to announce that we have been accredited as the Ford QVM partner for Platforms in the UK.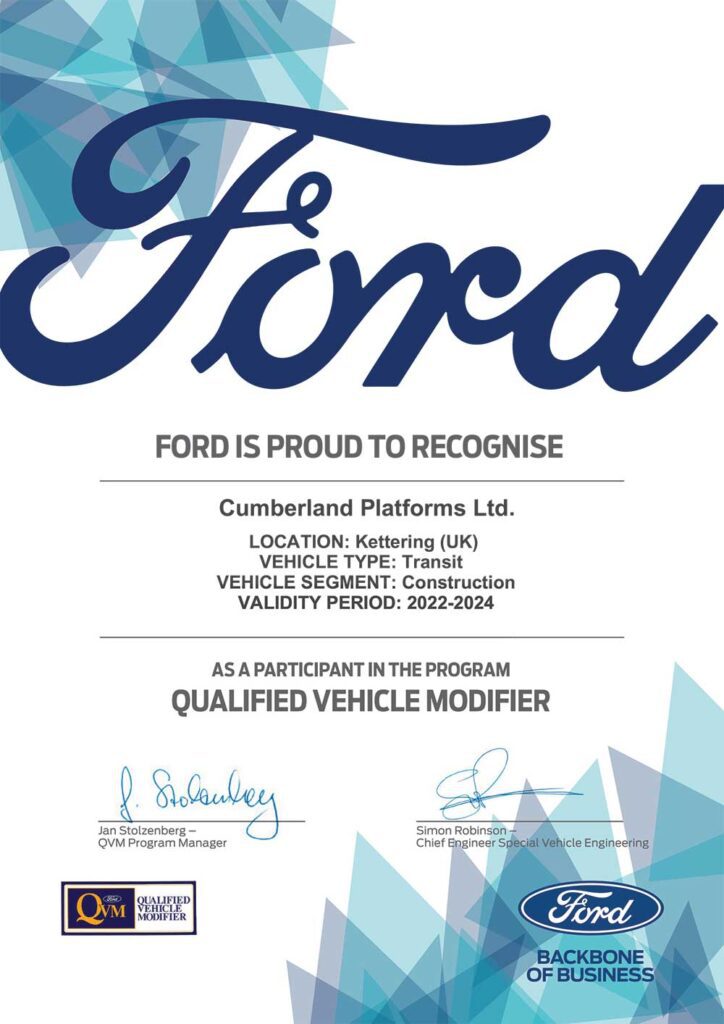 We are very proud of our technical team who have worked closely with the team from Ford to certify the CPL product for fitment onto the transit, with a special thank you to Ron Waldock for working with us to achieve this milestone.
CPL are well known for developing products in partnership with OEM's to offer the best and safest fitment of access platforms to vehicles. This mark of quality from Ford signifies the commitment from everyone in the team CPL.
With regular technical audits, by the leading commercial manufacturers, we provide evidence that we are going above and beyond the standards set by these organisations. These vigorous tests run throughout the entire company all the way from design to production to final testing of your vehicle conversion. This proves that we are building a product that is not only good quality but it also shows that we can work to these strict regulations to maintain a constant level of quality and professionalism.
In 2019 CPL was awarded Platinum partnership by Isuzu due to the quality and high standards of the conversions that are designed to be mounted on the D-Max. CPL were also the first vehicle mounted platform builder to receive Approved converter status and full type approval on both the Isuzu P130 and the Isuzu ATAT. 
Shortly after, CPL also received the accreditation of approved converter and full type approval for the Toyota Hilux . The company received full type approval on all Renault Master builds in 2020 after working with the commercial vehicle manufacturer for some time and most recently renewed manufacturer approval from Mercedes.
Gaining manufacturer approvals ensures that the customer receives the best possible in life service for the base vehicle as well as the cherry picker. Warranty and breakdown covers are honored by the vehicle manufacturer as though you are buying direct.
If you would like to discuss your requirements further, please do not hesitate to contact us.