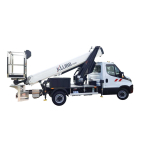 18,5m telescopic cherry picker on Truck XTENSO 3
This very impressive Xtenso 3 heavy truck mount cherry picker has an impressive 18.5m Working height and a 13.9m Working outreach.
This double telescopic boom with a 180° telescopic jib can be mounted onto a variety of heavy trucks including: Mercedes Unimog, MAN TGM, MAN TGM, Iveco Eurocargo, Renault D and a Mercedes Atego.
This heavy truck mounted boom lift has an impressive 420° rotation making it simple to reach the most difficult areas. The conversion comes in a variety of options including a Workshop version. This means that the unit can be used to maintain and fix any overhead lines in the field. There is also the possibility of a chassis mounted lift with aluminium locker storage for ease of access to all equipment.
The insulating basket can hold up to 280Kg making it the perfect solution when moving heavy lines.
Description
Additional information