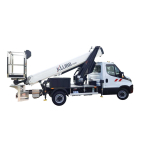 16.8m Telescopic Chassis Mount
The KT17 telescopic chassis mounted is one of the latest designs from the Klubb Group. Mounted on a 3.5t Iveco Daily, this unit has a superb payload.
The chassis platform, which has a working height of 16.8m and an outreach of 11.5m boats 300kg safe working load in the basket.
This range of chassis boom lift has been design specifically for the rental market as they are a versatile and cost effective. We have also seen a trend within the roofing and maintenance sectors as these units is fitted with an aluminium basket. This allows for extra maneuverability and access.
The full range is available with the Klubb Group Green pack technology. This allows the operator to use the boom while the engine is switched off. This option is perfect if you drive a lot between jobs. Unlike electric which has a range of approx 200Km, the diesel engine will keep going. Once the picker is in position for the work at height, it will run off a battery. This prevents unnecessary diesel costs and emissions from idling.
This telescopic chassis mount can also be manufactured with a variety of optional extras. These include tow bar, side ladder rack, aluminum storage lockers to name just a few.