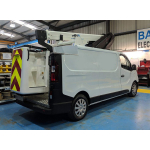 Sold – 9.2m Cutaway small Van Cherry Picker K21N (used)
The K21N cutaway van cherry picker for sale reaches 9.2M working height, and the safe working load in the basket of 120Kg offers 5.8M outreach.
Cables and hoses on this used van mounted access platform for sale are enclosed within the boom to provide protection. Locking valves are installed to prevent any uncontrolled movement of the boom in the event of a pipe failure. If the engine or main pump fails, functions are controlled by an independent electro-hydraulic pump.
Description
Additional information
Description
This compact van cherry picker has been designed with no outriggers. This allows for a speedy set up and keeps the dimensions of the entire conversion to less than 2.3m.
This unit has been fitted with a number of extra options. These include: Green pack technology allowing the boom to be operated with the engine switched off. It has been fully ply lined, there are two corner cab beacons installed and it has been fitted with a basket and rear panel chapter 8 chevron for highway use.
This used conversion for sale is a perfect partner for Electricians, Local Councils, Rental Firms, Fire and Safety and Signage sectors.