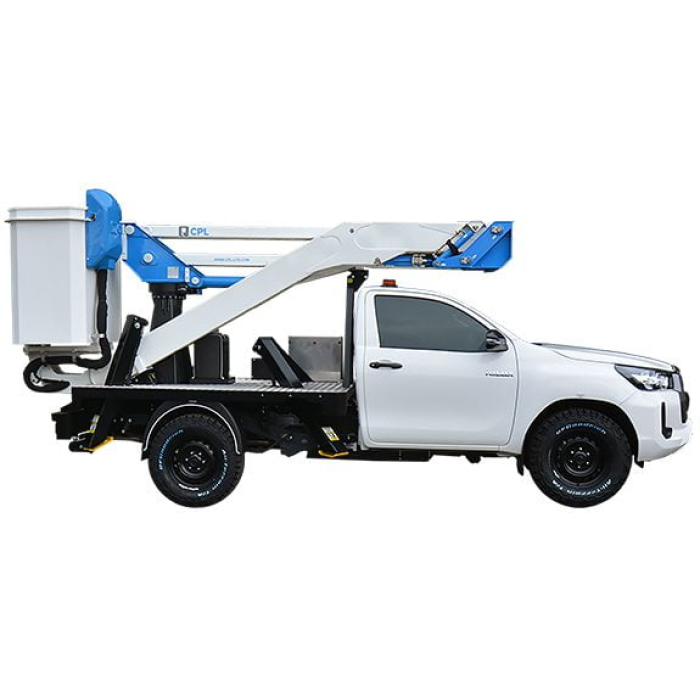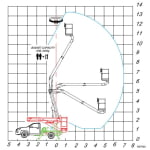 Toyota Hilux Cherry Picker
This articulated access platform conversion, is available on the ever popular Toyota Hilux chassis.
First introduced in 1968, this pickup is now in its seventh generation. Famed for its indestructibility by the BBC's Top Gear back in 2010, the Hilux continues to go from strength to strength.
Available on 4 wheel drive, this articulated conversion is powered by a 2.4L Diesel engine. This develops around 146PS and 343Nm of torque. It features ABS, Vehicle Stability Control (VSC) and Brake Assist (BA).
The Type Approved and Manufacturer Approved Toyota Hilux P130A access platform has been developed with a safe working load of 240Kg in the basket.
Description
Additional information
Description
The Toyota Hilux rough terrain cherry picker deck based controls have been improved by relocating to the near side of the vehicle, this is to enable safer and easier kerb side operation. The unit has received a 3.5tn air suspension upgrade with onboard pressure gauges and an automatic self-inflating system. The Cherry Picker conversion is fully hydraulic, safer to operate and easier to use.
Designed and developed specifically for the Utility, Telecom and Arborist industries, the Toyota cherry picker is a highly versatile machine. All external tracking has been removed so that you can work within the tree canopy without fear of damaging the hoses.
Optional extras that can be requested on this access platform include; Rear beacons built into the body, full beacon pack which includes front, rear and vehicle cab, reverse camera, fully type approved tow bar, company livery and rear chevrons all installed at our factory by skilled technicians.
For loading or towing, powerful in all circumstances
If you're wondering where the Toyota Hilux gets its strength from, the answer is simple: this remarkable pick-up is designed first and foremost as a force of nature, with a record towing capacity of up to 3,500 kg across the range with a record towing capacity of up to 3,500 kg across the range. The all-new 204 hp 2.8L engine delivers 500 Nm* of torque, ensuring 500 Nm* of torque for outstanding towing performance. Whether it's bringing in the harvest, towing a trailer or taking a caravan on holiday, the the New Toyota Hilux is the perfect choice. It is also equipped with stability control (TSC) to ensure that the vehicle remains stable in gusty winds in the event of sideways gusts of wind or changes in road surface.