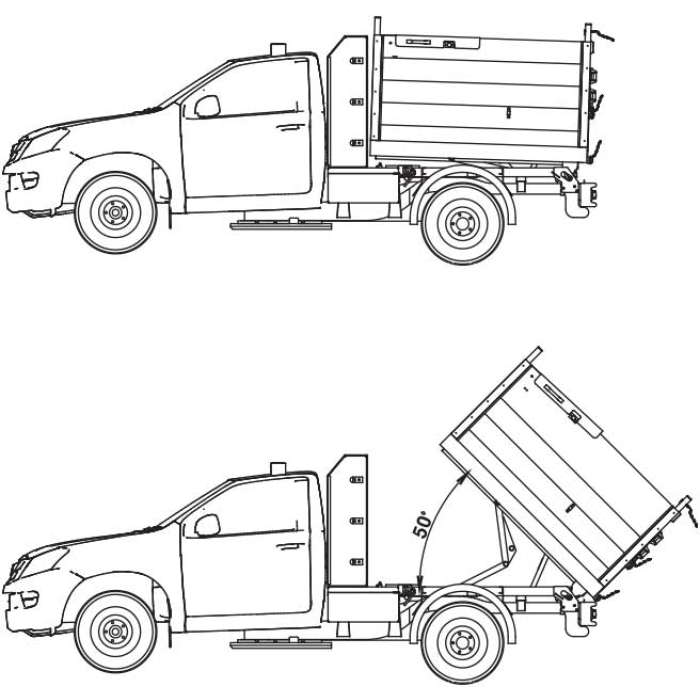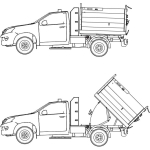 Toyota Hilux All Terrain Arb Truck
The Toyota Hilux Chipper Tipper Truck is fitted with a uprated 3.5t suspension adding extra payload to the conversion.
This completed vehicle comes with National Small Series Type Approval, warranty and breakdown cover for peace of mind.
The Toyota Hilux Tipper Truck come in different variants, from a Tipper version to a flat bed version to make sure we have something for every job. The Chipper Tipper is especially popular within the Arborist sector. We have worked closely with professionals from the industry to make sure the conversion is designed to not only be the best work horse but, is a professional vehicle for quotations and site visits.
Description
Additional information
Description
All our conversions come with a steel frame for robustness and are fully powder coated. The tipper variants have a maximum tipper angle of 50 degrees to aid in tipping loads, and it uses an uprated four pivot point tipper cylinder mechanism, which will give years of use without over stressing the frame or the chassis.
For the Arborist the Toyota Chipper Tipper Truck comes with a full aluminium body but for refuse/waste collection it can be fitted with half mesh sides. For more general usage there is the option of a flat bed conversion.
All options can be fitted with or without a full toolbox behind the vehicle cab. This has an exceptional payload and has been designed specifically for large tools and equipment. We also supply a 10Kg secure locker on the drivers side of the vehicle. This is the perfect storage for a quick to access First aid kit or 50/50 can. 
Optional accessories:
Ladder rack
Rear beacons built into body
Full beacon pack which includes front, rear and vehicle cab
Reversing camera
Type approved tow bar
Company livery and rear chevrons
Plus many more…
These are all installed at our factory by skilled CPL technicians.
Safety first
Toyota Safety Sense is a state-of-the-art collection of dynamic safety technologies designed to reduce the risk of accidents. This comprehensive system, which builds on the existing parking aids, includes the Pre-Collision System, Lane Departure Alert, Automatic High Beam, Road Sign Assist, and Adaptive Cruise Control. Its goal is to establish a secure driving atmosphere for both you and other drivers
Pre-Collision System (PCS)
The Pre-Collision System examines the road ahead to identify potential obstacles, such as cars, pedestrians, and bicyclists, that may lead to a rear-end collision. When a potential collision is identified, the driver receives both audible and visual alerts, and brake assistance is initiated. In the event that the driver fails to brake on time, the brakes are automatically applied to avert or lessen the impact of a collision.
Lane Departure Alert (LDA)
Lane Departure Alert relies on a camera to identify lane markings on the road ahead. If the vehicle drifts out of its lane without the use of turn signals, the driver is alerted with both visual and audible cues, allowing for corrective action to be taken.
Automatic High Beam (AHB)
Automatic High Beam is intended to enhance visibility for all drivers during nighttime driving. A camera detects the headlights of oncoming vehicles and the brightness of streetlights while also monitoring leading traffic. It automatically switches between high and low beams to ensure a safer driving experience at night.
Road Sign Assist (RSA)
Road Sign Assist keeps track of road signs ahead, providing valuable information such as the current speed limit or passing restrictions. If the driver is not following a road sign indication, the system emits both visual and audible warnings.
Adaptive Cruise Control
Adaptive Cruise Control maintains a minimum pre-set distance from the vehicle in front of you. If this distance decreases, the system slows down and eventually applies the brakes. As the distance increases, the system gradually accelerates until the desired cruising speed is reached again.
True Durability
The bold design of the Hilux delivers exceptional performance in the toughest environments.
Towing Capacity
Hilux provides a 3.5T* towing capacity, accompanied with Hill-start Assist Control and Active Traction Control, you can enjoy a smoother journey.
*Up to 3.5 tonnes, 4WD only
Leave nothing behind
The Hilux range offers an impressive 1 tonne payload capacity
Off-road abilities
Hilux is your perfect partner in the most challenging environments. With a robust frame and wading depth of 700mm, Hilux can operate confidently across all terrains.
The Toyota Hilux can tow loads of up to 3500kg with the support of its towing capacity. It's important to note that this figure applies when using trailer brakes. If a vehicle is not equipped with trailer brakes, the maximum load it can tow is 750kg, provided it's rated to tow that much.
The Toyota Hilux has built a reputation for being virtually indestructible, with numerous owners reporting that their vehicles have never required significant repairs. Its off-road capabilities are also highly regarded. Over the years, the Hilux has gained popularity among city dwellers who appreciate its sturdy construction and roomy interior.
The Hilux is a versatile vehicle that can be used for various purposes, including camping, off-road driving, and towing. It is a popular choice for those seeking a dependable workhorse that can withstand tough conditions in UK.
Thanks to its excellent durability and rugged aesthetics, the Hilux retains a high resale value and is in high demand among those seeking a reliable and long-lasting vehicle.
The remarkable durability and reliability of the Hilux can be attributed to its exceptional engineering and design. Toyota is a highly regarded manufacturer of various types of four-wheeled vehicles, including buses, trucks, forklifts, and even sports cars. The company's extensive experience in building Land Cruisers for both military and civilian use has provided a platform for the development of technologies and designs that are unmatched in the automotive industry.
It's important to note that the Hilux is not the only Toyota model that is renowned for its toughness. In general, Toyota vehicles are exceptionally well-crafted, with many being over-engineered in numerous ways. This speaks to the meticulous attention to detail and engineering that is employed in their production. Although there have been some occasional recalls and reliability issues over the years, Toyota is widely recognized for producing some of the most dependable vehicles available today.