CPL to exhibit at Isuzu Fleet Fest as their first approved Aerial Platform converter
Anna Ramsden
CPL, the UK access platform specialists will exhibit two market leading conversions at the Isuzu Fleet Fest 2019 on Wednesday 3rd and Thursday 4th July.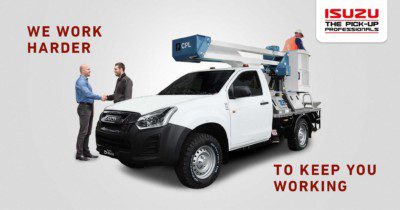 CPL are one of the largest customers of Isuzu and were the first aerial platform conversion company to provide the 3.5tn GVW upgrade and the 7tn GTW in the UK. Due to this continued growth and success we have built a mutually beneficial strong relationship and are now ordering more Isuzu pick-ups than ever before, making CPL the first Isuzu approved converter of choice. Currently there are over 500 CPL Isuzu conversions in the market and this number is growing substantially year on year.
In July CPL will be guests of Isuzu at the Isuzu Fleet Fest 2019. We will be showcasing both the Isuzu pick up access platform and the Isuzu All Terrain Arb Tipper (ATAT) which are market leading innovations across numerous sectors, including Utilities, Telecommunications, Arboriculture , Rental/Leasing and Public Sector. At this event you will be able to speak with the CPL team and discover why so many companies rate us for quality, safety, reliability and service.
"We have been delivering high quality platforms on pick-ups and have been the Isuzu approved converter for 5 years! CPL are constantly evolving and improving the product line for our customers in partnership with Isuzu. Our goal is to bring platforms on pick-up innovations to the next level thanks to a dedicated engineering processes and a large customer support base." Stressed Paul Murphy, Director of CPL.
William Brown, Managing Director, Isuzu (UK) Ltd said, "Working with the team at CPL has meant we have been able to deliver a perfectly tailored solution to meet the specific needs of our customers. CPL have helped us drive both specialist fleet Isuzu D-Max sales and repeat business, due largely to the high quality of their aerial platform assembly process. This is an excellent example of a great working partnership."
CPL were the first aerial platform specialist to meet Isuzu's quality standards in every aspect of the build process and conversion delivery, including warranty and after-sales service. At this event you will be able to see the strength of this partnership in order to deliver the best quality conversion and chassis partnership on the market, the CPL Isuzu D-Max MEWP & ATAT.