CPL invite you to attend the second company Open Day
Anna Ramsden
Once again we are opening our doors for our second Open Day.
CPL will host the Open Day on Friday 15th November from 10am until 4pm at our Head Quarters in Kettering.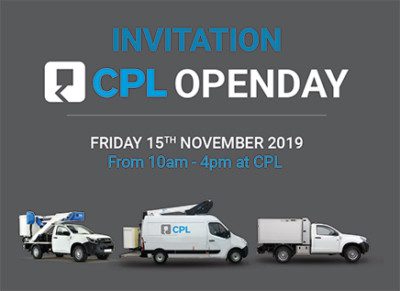 You are welcome to come along at any point throughout the day. We will be carrying out full demonstrations of our new and market leading conversions. These will include the CPL ATAT, a variety of van mounted platforms, our market leading P130 Pick up just to name a few. We will also be demonstrating a 30m tracked spider and the new Klubb KT20 chassis mount. There is something for all industries within our range including: Telecoms, Arborists, Utilities, Rental and Highway maintenance.
There will be tours of the three manufacturing facilities throughout the day and we will have on site catering for you to stop and have lunch at your convenience.
If you would like to stay in a nearby hotel for the evening, please let us know and we will arrange this for you.
For your place at the CPL Open Day, Contact us now. If you would like a meeting with our team please do not hesitate to ask for a specific time throughout the day.
Can't make the date? Contact us for a demonstration at your preferred time and location.