CPL to exhibit with Isuzu this July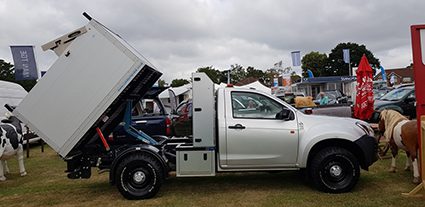 The CPL Chipper Tipper will be exhibited at two of the biggest agricultural shows in the UK this July.
One of our market leading conversions, the CPL chipper tipper. Will be on show at this years Great Yorkshire show and Royal Welsh show.
The Isuzu D-Max CPL Chipper Tipper is fitted to a 3.5t Isuzu Chassis, depending on conversion gives a payload of up to 1300kg. The completed vehicles come with National Small Series Type Approval for peace of mind and full Isuzu warranty and breakdown cover. For further information on the CPL Chipper Tipper conversions: https://cpl-ltd.com/products/cpl-chipper-tipper
The Great Yorkshire Show is an iconic three-day event and one of the biggest agricultural events in the English calendar. This will take place at The Great Yorkshire Showground in Harrogate from 10th-12th July. For tickets: https://greatyorkshireshow.co.uk/ticket-information/
The Royal Welsh show is an exciting four-day show of livestock competitions, with entries travelling from far and wide to compete, the show has something to interest everyone through its wide range of activities including forestry, horticulture, crafts, countryside sports, shopping, food and drink and a 12-hour programme each day of exciting entertainment, attractions and displays. The show takes place from 23rd -26th July at Royal Welsh Showground, Llanelwedd. For tickets: http://www.rwas.wales/rw-tickets/