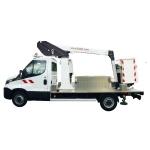 11,80m Chassis Mount Platform KL26
The KL26 Chassis cab mounted on 3.5T Chassis has an impressive 11.8m Working height and the option of 120Kg single basket with no outriggers or 200Kg safe working load in the basket with two outriggers. The Working outreach for this chassis mount is 6.5m with either the one or two man basket.
This  MEWP can be fitted to a huge range of vehicles including: Renault Master L2, Iveco Daily 35S, Mercedes Sprinter 3665 and Ford Transit 3950 to name just a few.
There are a multitude of optional extras that can be fitted to this chassis mounted boom lift. These include: Green Pack Technology. This allows the boom to be operated with the engine switched off. There is also the option of large aluminium storage lockers for all tools and maintenance equipment.
The KL26 Chassis cab is a great conversion for street lighting maintenance, Rental companies and signage companies due to its versatility.