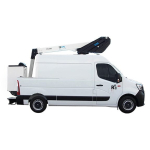 11,80m Van Mounted Cherry Picker KL26
The KL26 lift platform is mounted to a 3.5t cutaway Renault Master . With the cutaway aspect it is perfect for companies working within towns and cities that are interested in a eco-responsible approach. The platform is designed with no outriggers making it a quick and easy conversion to set up.
The KL26 lift platform reaches 11.8M working height, and the safe working load in the basket of 120Kg offers 6.5M outreach.
This conversion can be mounted on a van with a battery powered boom or a fully electric van with a battery powered boom making it zero emissions.
Description
Additional information
Reviews (0)
Description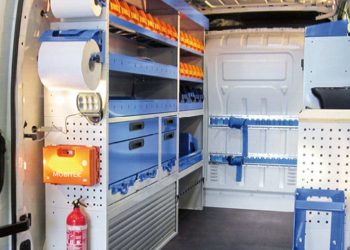 Mobile Workshop
All necessary tools and equipment can be stored directly on the vehicle. This on-board storage eliminates the need for additional vehicles. It allows you to have everything you need at your fingertips, reducing downtime and improving workflow efficiency.
Compact Size
Van aerial platforms often have a more compact footprint compared to some larger, stand-alone platforms. This smaller size can be a significant advantage when working in tight or restricted areas where larger vehicles might have trouble maneuvering. The compact size also makes it easier to navigate through heavy city traffic or crowded job sites.
Reduced Operational Costs
The integrated design of these platforms often means lower fuel consumption than using separate vehicles for transportation and lift operation. Additionally, having a combined vehicle and lift reduces the need for costly equipment rentals, as well as the maintenance costs associated with multiple machines
Cables and hoses on this lift platform are enclosed within the boom to provide protection. Locking valves are installed to prevent any uncontrolled movement of the boom in the event of a pipe failure. If the engine or main pump fails, functions are controlled by an independent electro-hydraulic pump.
We offer a multitude of optional extras to suit any project. These include; Front, rear and cab beacons, work lights, reversing cameras, internal electric sockets, company livery and chapter 8 markings.
This conversion is a perfect partner for the Telecoms, Utilities, Highways and Street lighting, Local Councils, Rental Firms, Fire and Safety and Signage sectors. There is the option of a cutaway version of this model of aerial platform. Due to the ease of maneuverability this type of conversion is very popular in Urban maintenance.
The KL26 Lift Platform can have the option of Green Pack Technology. This allows the boom to be operated with the engine switched off. There is the option of a fully electric KL26 boom lift mounted on a Renault Master ZE.
Additional information
| | |
| --- | --- |
| Condition | Bespoke |
| Working height | 11m to 13m |
| Vehicle | Cutaway van |