Join CPL at The Clean Air Roadshow with the K26 Renault ZE Vehicle mount platform.
Anna Ramsden
On Tuesday 26th March CPL will be at the Clean Air Roadshow with Renault Trucks at Hampden Park, Glasgow.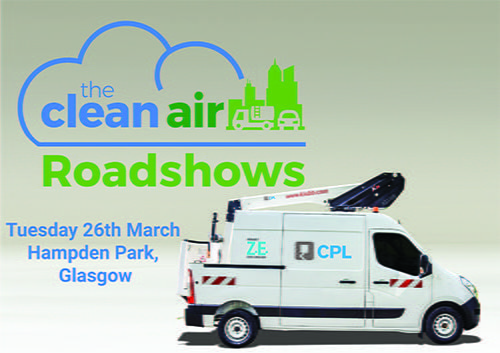 Join us as we demonstrate the K26 Renault ZE fully electric vehicle mount platform. This conversion is perfect for the eco responsible companies working at height.
The vehicle mount platform boasts a 11.8m Working height and 6.8m Working outreach. It has no outriggers making a must faster set up time and minimal disturbance to traffic when working on the roads. The cutaway version allows for easy maneuverability around urban areas as the full length of the vehicle is no more than 5.9m.
With a one-man basket, and up to 120kg safe working load, this platform is perfect for single person use making it much quicker and cost effective to run.
The K26 Renault Master ZE will be on the Renault Trucks stand from 10-2pm on Tuesday 26th March at Hampden Park, Glasgow.
Come on stand and ask for a demonstration from one of our Sales specialists.