The P130 D-Max Pick up
Anna Ramsden
The P130 D-Max Pick up – The conversion of choice for our Arborist customer.
Our Arborist customer has taken delivery of the P130 D-Max Pick up. This conversion has been chosen as it is not only fully type approved with the 3.5t suspension upgrade, tow bar and all terrain tyres, it is also manufacturer approved by Isuzu. This allows the customer to keep a warranty and breakdown cover.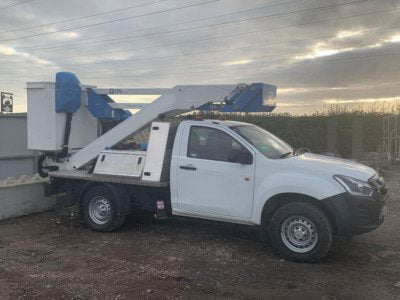 The working height of the boom is 13.1m and the working outreach of this P130 D-Max pick up is 6.2m. It is perfect for the Arborist market as it can reach everywhere needed and can also be fitted with an aluminium cage for ease of access when working at height.
The P130 Isuzu can also be operated and recovered by just one operator. For a team of our customers size, this is a must.  The Cherry Picker conversion is fully hydraulic, safer to operate and easier to use. Take a look at our training video to see how straight forward is to operate this conversion safely and correctly.
The customer chose a number of optional extras to ensure his unit was ready to use as soon as it left our factory. These included: A full beacon pack which includes front, rear and vehicle cab, chapter 8 chevrons to the rear of the basket and aluminium locker boxes for PPE and tools.
For further information or a demonstration, please contact us.