CPL Spotlight – CPL Van Mounts
Anna Ramsden
Investing in CPL Van Mounts may require a significant upfront cost, but the returns they offer far outweigh the initial investment.
By minimising the number of vehicles required for a job to just one, our cherry pickers provide a cost-effective solution. No longer do you need to incur additional expenses by deploying separate vehicles. The rear of the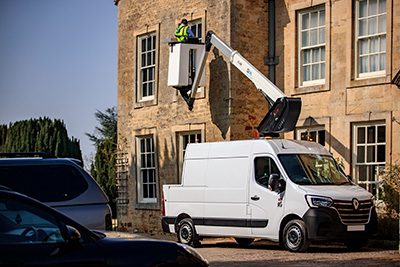 van mounted platforms is left free for a mobile workshop or equipment storage. This streamlined approach translates into savings and improved profitability. Furthermore, consider the impact of increased efficiency. Even a modest 10% boost in efficiency can lead to a staggering 200% increase in profits. Our CPL Van Mounts are specifically designed to enhance efficiency, allowing you to reach greater heights and complete more jobs in less time. The possibilities for expanding your business and maximising revenue are limitless. Additionally, our cherry pickers are built to last. With their robust construction and long lifespan, they ensure a solid investment in the future well-being of your business. You can rely on these durable booms to serve you for years to come, providing continued efficiency and profitability. CPL have a dedicated Customer Support department offering bespoke maintenance packages to fit your business needs, and a Spare parts stores stocked with everything needed to keep your fleet on the road.
In today's fast paced world, industries across the spectrum demand innovative solutions that combine efficiency, maneuverability, and outstanding performance. Enter CPL, a pioneering manufacturer renowned for its compact yet powerful van-mounted access platforms. In this article, we will delve into the remarkable features of CPL's range of van mounted platforms, including KL21B Single Man Lift, KL26 Van Mounted Cherry Picker, KL32 Van Mount Picker, K38P Van Mount Platform, and K42P Van Mounted Cherry Picker. These exceptional innovations are designed to excel in diverse environments, offering heightened capabilities while maintaining a compact footprint. From the bustling streets of urban centres to the challenging terrains of industrial sites, CPL's van platforms have redefined the possibilities of elevated work platforms, let's explore the key attributes that make these vehicles stand out, enabling users to optimise their operations and achieve remarkable efficiency.
The KL21B Single Man Lift stands out as a highly compact innovation designed by the Klubb Group and modified specifically for the UK market. Despite its small footprint, this lift boasts an exceptional 11.2 metres of working height and 6 metre working outreach. Its ingenious design eliminates the need for outriggers, making setup quick and hassle-free. The single-man basket, with a generous 120kg weight capacity, allows for efficient lifting of personnel and tools. Perfect for busy streets and narrows spaces being able to get to more streetlights in less time in the growing urban environment. This lift ensures that the envelope of the vehicle remains unchanged, providing unparalleled manoeuvrability without compromising on payload capacity.
For companies seeking an eco-responsible approach without sacrificing performance, the KL26 Van Mounted Cherry Picker is an ideal choice. Mounted on a 3.5-ton cutaway Renault Master ZE, this platform offers seamless manoeuvrability within urban environments. As an approved converter, Renault honour their warranty terms with CPL van platforms to give you piece of mind. The absence of outriggers simplifies the set up and stowing process. There is also a weight saving from a design without outriggers and a cutaway option. With an 11.8-metre working height and safe working load of 120kg with a 6.5 metre outreach, the KL26 delivers exceptional performance while minimising environmental impact. This model is also available as a diesel base unit with a standard, or hybrid boom. Whatever type of work you carry out, and however many miles you cover, we have an option available.
Popular within the well-known Telecoms leader fleet is the KL32 Van Mount Picker. Designed without outriggers, this cutaway van mount picker, mounted on a 3.5-ton or 4.5-ton vehicle, offers an outstanding payload capacity. Through close collaboration with the telecoms sector, CPL has ensured that the KL32 is purpose-built to excel in its intended applications. Its advanced features, combined with its robust design, make it a reliable and efficient choice for demanding work scenarios. In addition, the KL32 can also come with or without the cutaway design. Created to provide users with top-quality equipment for working at height, offers outstanding capabilities. It can be easily fitted to 3.5-ton vans and chassis, including popular models such as Renault, Iveco, Ford, and Mercedes. It reaches a working height of 12.3 metres and offers outreach of 6.9 metres at 120kg, all without the need for outriggers perfect for compact spaces.
For those in search of the three golden options, height, reach and load flexibility, the KL38P Van Mount Platform is an optimal choice. Compatible with type-approved Renault Master or Ford Transit vehicles, this telescopic van-mounted platform boasts an impressive 13.8 metres of working height. The KL38P Van Mount Platform offers an array of impressive features, including a 360-degree aerial rotation for enhanced movement. With its articulated jib boasting 110 degree angle, this platform provides optimal reach and flexibility, allowing users to access challenging work areas with ease. With options for both full van and cutaway versions, the KL38P caters to a wide range of applications. These include rental companies like Highway Hire.
Graham Papierowski, Operations Manager for Highway Hire Ltd said "Back in 2021 Highway Hire Ltd added 9 Renault Master vans fitted with the Klubb K38P 13.7m platform to our growing hire fleet of van mounted access platforms.
At first, we were a bit unsure about customer acceptance and reliability of not only the platform but the Renault Master van.
I can honestly say that over past two years since receiving these vehicles, our customers have excepted them, and even ask for them by name, and the Renault Master van and the Klubb K38P platform have been proven to be very reliable.
Like all products your purchase, it takes time to get to know a product, and our engineers feel that both the K38P and the Renault Master are easy to repair and maintain.
We have been so pleased with K38P and the Renault Master van, we will be taking delivery of a further 5 CPL Van Mounts by the end of August 2023 and committed to purchase a further 20 vehicles from CPL during 2024″.
Lastly, the K42P Van Mounted Cherry Picker mounted on a 5t base. This telescopic van mount, capable of reaching a remarkable 14.6 metres of working heights, fits seamlessly onto multiple vehicle models, including Renault, Iveco, Ford and Mercedes. It offers users a reliable solution that combines exceptional performance with ease of operation.
In conclusion, while the initial cost may seem significant, the benefits and returns offered by our cherry pickers make them an indispensable asset for your business. They not only boost efficiency but also drive profits, enabling you to take on more projects, reach greater heights, and secure a prosperous future for your enterprise. CPL have partnerships with both finance and leasing companies. These options can be as streamlined as purchasing directly from us due to our relationships.
If you need advice on the best platform for your work at height, or you would like us to demonstrate a particular model, Contact us. We are here to help guide you into the best equipment for making your business efficient, safer and more profitable.