Is bigger always better? Check out the small Cherry Picker range
Anna Ramsden
CPL receive a lot of enquiries for the biggest Access Platform possible. Let us explain why the small Cherry Picker is sometimes better.
One of the biggest challenges we have as a manufacturer is educating the market to understand that bigger platforms cost more than a small cherry picker and sometimes, its just not necessary to have something you will never need. One of the most received enquiries is for a 20m boom on a 3.5t chassis or van. When we ask why this specification is needed, the customer more often than not doesn't exceed 12 or 15m. The cost involved in this extra working height can be the difference between affordable monthly payments and an asset that isn't covering its costs.
There is a reason why we have such a vast range of vehicle conversions of all heights, weights and sizes. Each one is designed and tailored for a specific sector of work at height. We have developed large platforms on smaller vehicles like the KT20 range of chassis mounted platforms. From 17 to 20m these telescopic lifts are mounted on a 3.5t Iveco daily. Generally these are used for Tree work where its difficult to get to the canopy from the rough terrain.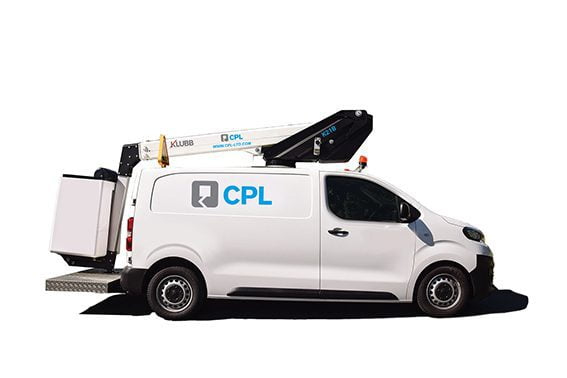 The small cherry picker range is becoming popular with more and more companies working at height. The compact platform, designed with no outriggers, stay within the working envelope of the vehicle at all times. This makes busy street work as painless as possible. The K21B is a great solution for working in tight spaces. Built on either a Peugeot Expert or Renault Trafic, this small cherry picker van this conversion boasts an exceptional working height of 11.2m and a working outreach of 6m. The one man 120Kg SWL basket is ample for a single person team with plenty of storage and payload in the back of the van for parts and tools.
Another small but effective platform is our KL26 Renault Master Cutaway van mount. The cutaway design and no outriggers make it a small cherry picker for maneuvering on busy streets. It does however have an exceptional working height of 11.8m and working outreach of 6.5m. These specifications allow you to reach all teleoms and CCTV poles across the UK. It is a favorite in the Hire and Rental sectors due to its versatility. This conversion has a payload of over half a ton allowing for plenty of tools and equipment to be stored.