Discover the Pick Up Mounted P130 Access Platform
Anna Ramsden
This week the Pick up mounted P130 will be on display at The Melplash Show on Thursday 22nd August. CPL will be demonstrating the vehicle conversion on the Otter Vale Isuzu dealer stand B43. 
We will also be on the Isuzu dealer Cuverwells stand at the South East Construction Show on Thursday 26th September with the P130 pick up mounted access platform.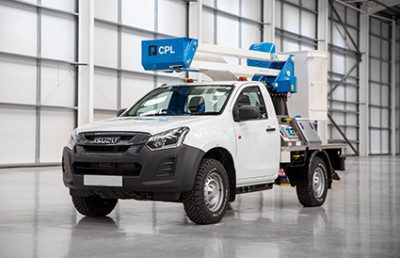 The Pick up mounted P130 is built onto an Isuzu D-Max chassis. The conversion has a 3.5t Suspension upgrade adding to the excellent payload. The working height is 13.1m and the working outreach is 6.2m. This fully type approved conversion has, as standard, all terrain tyres, a self levelling basket with manual trim, 240Kg Safe working load in the basket and a 24 degree departure angle. 
This market leading pick up conversion can be supplied with a number of optional extras which are fitted in house by our trained team of technicians. These include: Type approved tow bar, cab and rear beacons, key out system, Secure aluminium lockers and Chapter 8 markings.
We look forward to inviting you on stand to discuss this conversion further. If you can't make it, book a demo today at a time and place that suits you by contacting us.