Meet us at Vertikal Days in May with all our partner brands
Anna Ramsden
This year CPL will be exhibiting products from all of our partner brands.
As part of the Klubb Group we will have a variety of our market leading van and pick up mounts on stand. These will include the popular Toyota P130 with a working height of 13.1m, a working outreach of 6.2m and a safe working load of 240kg. We will have a range of our van mounted platforms from the KL26 cutaway with no outriggers up to the K42p 5t Iveco daily.
As the UK customer support and sales dealer for Palfinger we will have the P250. This chassis mounted platform has a working height of 24.7m, a working outreach of 16.9m and a safe working load of 250kg, this unit is very popular across arborist, rental and maintenance companies due to its versatility and 3.5t weight. This unit will be in stock at CPL very shortly so come on stand to try it out.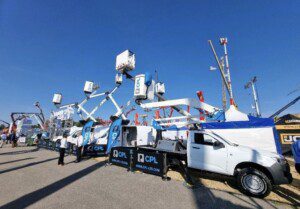 We will also be showcasing the popular P300 KS. This truck mount has a working height of 30m and a working outreach of 20.5m with 400kg in the SWL basket. This unit is for sale and can be purchased on stand or before hand and driven away after the show.
Our new partner brand Almac will also be with us across the 3 stands. They will be showing a large variety of their crawlers including the popular scissor lift range, the self propelled crawlers and the impressive spiders they offer.
We will be on stands 503 to 505 so Contact us to book an appointment with our team and try out our huge variety of solutions for working at height.