CPL Spotlight – K42p 14.6m Iveco Van Mount
Anna Ramsden
K42P 14.6m Iveco Van Mount Platform
Van mount access platforms, such as the K42P, are designed to provide users with a versatile solution that combines height, outreach, and payload capabilities. Specifically designed to be mounted on 5-ton panel vans, the K42P offers an impressive working height of up to 14.6 meters with a telescopic boom and fly jib. Its adaptability allows it to be fitted to various vehicle models including Renault, Iveco, Ford, and Mercedes, making it a flexible choice for different fleets and industries – catering to all customer needs and wants. We have mounted on the Iveco Daily panel van to give maximum payload and space for a workshop.
Best sectors for the K42P
The K42P van mount is a perfect partner for a range of industries and sectors. Here are some sectors that can benefit greatly from its capabilities: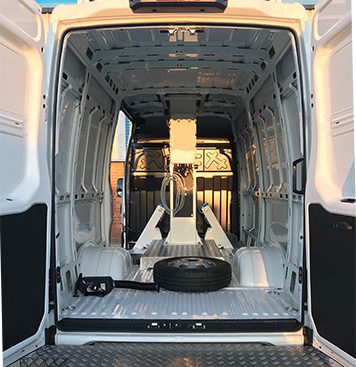 The K42P is ideal for telecom companies as it provides efficient access to elevated installations, such as cell towers and antennas. Its versatile reach and payload capacity enable technicians to perform maintenance, repairs, and installations with ease and safety.
Utility companies dealing with power lines, cables, or infrastructure maintenance can use the K42P for quick and secure access to elevated work areas. Whether it's repairing overhead lines or conducting inspections, this van mount platform offers the necessary height and outreach for the job.
Maintenance and installation of motor-way infrastructure and street lighting often require working at height. The K42P allows workers to safely reach elevated areas, ensuring efficient and effective operations.
Municipalities and local councils can rely on the K42P for various tasks, including maintenance of public facilities, street sign installation, and general repairs. Its compact design and versatility make it suitable for navigating urban environments and accessing tight spaces.
Rental companies can offer the K42P as part of their fleet, catering to a wide range of customer needs. Its flexibility, ease of use, and impressive height and outreach capabilities make it an attractive choice for contractors and individuals requiring elevated access equipment.
Fire departments and emergency services can benefit from the K42P's reach and versatility during rescue operations, inspections, and maintenance of fire safety equipment. The platform enables safe and efficient access to elevated areas, enhancing overall response capabilities, going above and beyond.
Signage companies can utilize the K42P for installation, maintenance, and repairs of outdoor signs. Its height, outreach, and stability ensure that workers can complete their tasks effectively, even in challenging environments.
Pros of the K42P
Impressive working height and outreach, the K42P holds a working height of 14.6 metres and an outreach of up to 7.1 metres, with a 200kg load. The K42P offers excellent reach for various tasks, enabling efficient completion of work at elevated areas.
The K42P Iveco has a versatile payload capacity, the K42P can handle a safe working load of up to 200kg in a walk in fiberglass basket, allowing for the presence of two workers and their tools, enhancing productivity as well as efficiency at their job.
This model is equipped with enhanced safety features such leg operation from the cab. In addition, the platform has A-frame hydraulic stabalisers,  independent emergency electric pumps, and electric emergency descent controls for enhanced safety during any operation.
Additional extras for the K42P
The K42P offers the option to include front, rear, and cab beacons. These additional lighting features enhance visibility and safety on the road, making the van mount access platform more noticeable to other vehicles and pedestrians. Whether it's working in low-light conditions or navigating busy job sites, the beacons help alert others to the presence of the K42P, reducing the risk of accidents and ensuring compliance with safety regulations.
To facilitate work in dimly lit environments or during nighttime operations, the K42P can be equipped with work lights. These strategically positioned lights provide enhanced illumination around the platform, improving visibility for operators and enabling them to carry out tasks with precision and efficiency. The work lights ensure that work can continue safely and effectively, regardless of the lighting conditions.
Reversing a van-mounted access platform can sometimes pose challenges due to limited rear visibility. By integrating reversing cameras, the K42P offers an extra layer of safety during maneuvering and parking. Operators can view the live feed from the camera on a screen inside the vehicle, providing a clear view of the surroundings and minimizing the risk pf collisions or accidental damage to objects or structure.
To enhance convenience and productivity, the K42P can be equipped with internal electric sockets. These sockets allow operators to power and operate tools and equipment directly from the platform, eliminating the need for additional extension cords or power sources. It streamlines workflows, saves time, and ensures a more organized and efficient work environment.
To maintain a professional appearance and comply with safety regulations, the K42P offers options for company livery as well as chapter 8 markings. Company livery customisation allows the platform to be branded with the company logo, colours as well as contact information, enhancing brand visibility and presenting a unified image to clients and the public. Additionally, chapter 8 markings ensure compliance with road safety regulations and incorporating the necessary reflective materials and signage.
In summary, the K42P van mount access platform offers an exceptional combination of height, outreach, and payload capacity. With its adaptability to different vehicle models, impressive working height, and various safety features, it is a valuable asset for telecoms, utilities, highways and street lighting, local councils, rental firms, fire and safety,  and signage sectors. The optional extras further enhance its functionality, ensuring it meets specific project requirements and offers an efficient and reliable solution for elevated access needs tailored to you.
These are available in stock immediately.
Contact us to find out more and book a demonstration at your location of choice.