Test the 18m Billennium Spiderboom at Confor
Anna Ramsden
Unveiling the Almacrawler 1890 Billennium Spiderboom: A Game-Changer in Access Equipment
In the realm of access equipment, innovation is the key to enhancing safety, efficiency, and versatility. The Almacrawler 1890 Billennium Spiderboom stands as a testament to this pursuit of excellence. Let's explore the remarkable pros of this cutting-edge spider boom lift that's transforming the way we approach work at height.
Impressive Reach and Height
The Almacrawler 1890 Billennium Spiderboom offers unparalleled access to elevated work areas. With a remarkable working height of up to 18 meters (approximately 59 feet), it can effortlessly reach those challenging, towering spots. This extensive vertical reach allows workers to tackle tasks with ease, from construction and maintenance to tree trimming and window cleaning.
Innovative Spider Boom Design
One of the standout features of this machine is its spider boom design. Unlike traditional aerial work platforms, spider booms are incredibly versatile, thanks to their adjustable legs that provide stability on uneven terrain. The Almacrawler 1890's spider legs can be individually positioned, making it perfect for jobs in confined spaces or rough landscapes.
Compact Size, Big Impact
Despite its impressive capabilities, this spider boom is compact and maneuverable. Its narrow width and low ground pressure enable it to access tight spaces and delicate flooring without causing damage. This makes it an excellent choice for indoor work, such as in warehouses or factories.
User-Friendly Controls
Operating the Almacrawler 1890 is a breeze, thanks to its user-friendly controls. The intuitive interface allows even novice operators to quickly learn how to use the machine effectively, increasing productivity and reducing the risk of accidents.
Enhanced Safety Features
Safety is paramount when working at height, and the Almacrawler 1890 doesn't disappoint. It comes equipped with a range of safety features, including outriggers for stability, emergency lowering systems, and easy-to-access emergency stops. Workers can focus on their tasks with peace of mind, knowing that their safety is a top priority.
All-Terrain Performance
Whether you're navigating rough construction sites, uneven landscapes, or delicate indoor flooring, the Almacrawler 1890 handles it all. Its all-terrain capabilities ensure that you can get the job done regardless of the conditions, reducing downtime and increasing efficiency.
Eco-Friendly Operation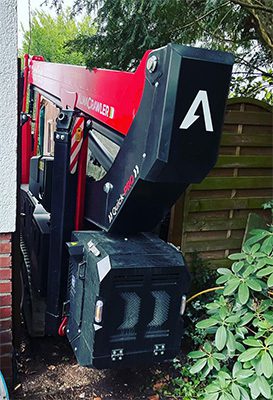 With a focus on sustainability, the Almacrawler 1890 is designed to be environmentally friendly. It boasts energy-efficient systems that reduce fuel consumption and emissions, making it an excellent choice for companies looking to minimise their carbon footprint.
The Almacrawler 1890 Billennium Spiderboom is a remarkable piece of access equipment that offers a multitude of benefits. From its impressive reach and innovative design to its user-friendly controls and commitment to safety, it's a game-changer for industries that rely on efficient and secure access at height. As technology continues to advance, machines like the Almacrawler 1890 are leading the way in ensuring that workers can perform their tasks safely and effectively, no matter the challenge.
This machine, along with several others, will be on display at Confor from the 21st to 22nd September. Book your tickets here, and join us on stands L8 & L14 where we will be demonstrating our varied range. If you would like to book a time with us to test our our machines, please fill in the form here.