CPL steal the show with their market leading conversions at the Isuzu Fleet Fest
Anna Ramsden
CPL showed off the market leading conversions at the Isuzu Fleet Fest held at the Sheerness Import Centre on Wednesday 3rd and Thursday 4th July.
Also on show was the 100 Isuzu D Max's that CPL has in stock. Many of these have already been ordered by customers for conversions. This demonstrated just how popular the CPL D-Max ATAT and P130 Access Platform is in the UK market.
CPL exhibited and demonstrated the ATAT (All terrain Arb Tipper) and the P130 Pick Up Access Platform, both mounted on the Isuzu D-Max.
The D-Max ATAT is an all-terrain arb truck designed specifically for the Arborist industry. It features a tipping body that can hold up to 1300Kg. It is also equipped with two fully secure lockers. The larger locker is situated behind the vehicle cab. This can hold 180Kg of tools and PPE. There is also a smaller 10Kg locker situated lower down behind the offside of the cab. This is perfect for a 50/50 can or easy to reach First aid kit.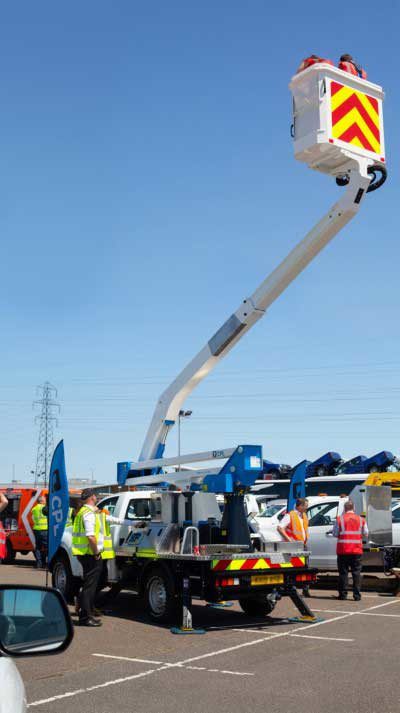 The D-Max P130 Access Platform is the leading pick up conversion on the market. With a strong steel boom and 240kg SWL in the basket, this design has everything you need to carry out work at height. The impressive boom has a working height of 13.1m and a working outreach of 6.2m. This conversion is the machine of choice for the majority of the Utility and Telecoms companies within the UK.
The two days were a great success allowing potential customers to experience and fully appreciate both of these exceptional designs.
We would like to thank Isuzu for the opportunity to show these great units off to their customers and learn about the fantastic capabilities that all of the Isuzu market leading conversions are capable of while on their off road course.
If you are interested in any of our market leading conversions. Contact us for more information or a demonstration at a time and location that suits you.