Hybrid is the most viable for going green
Anna Ramsden
Hybrid cherry pickers are fast becoming the go to conversion for those companies trying to reduce their carbon footprint.
As we have all seen in the media, electric vehicles are the hot topic. In an ideal world we would all change over today but there are challenges involved in this. The main one is the cost of fully electric. The price for electric vehicles can be double that of a diesel engine which is just not an option for some companies. In the past we have also found that the range on electric commercial vehicles just isn't long enough for some work schedules. This is changing rapidly with vehicle manufacturers concentrating on how long a vehicle can perform before it needs a charge and how long that charge will take.
The Klubb Group have several fully electric options available that have been designed with the inner-city work at height in mind. For example, the Peugeot e-Expert can be fitted with a fully electric boom. This compact conversion can be manufactured with a cutaway back and has no outriggers. These features make working at height in busy areas as straight forward as possible.
The latest Renault Master ZE has also seen some major improvements. Previously classed at 3.1t, the ZE left minimal payload once converted. Now classed at 3.5t, this base vehicle with the KL26 boom is one of the best solutions on the market for a medium to large carrier vehicle. The larger chassis provides the option for a mobile workshop with lightweight shelving and racking installed, while the 11.8m working height and 6.5m outreach makes this conversion one of the most versatile in the range.
These electric options in our range along with many others are the perfect solution for companies looking to completely reduce their footprint but, as we highlighted previously, they come with a higher price tag. Working with our customers, we have ensured all our conversions can be built as hybrid solutions. Although there are a number of options within this category, the basic concept is the base vehicle is a diesel-powered engine while the boom runs on battery power.
The cost of this option is substantially lower than that of full electric meaning it is fast becoming the market leader for numerous sectors. We have seen a steep rise orders of hybrid units within the rental and telecoms industry. These companies are under pressure to be more eco responsible but their work at height involves long distance travel to and from each job.
The full van range can be built as hybrid cherry pickers, but the most popular solutions are the KL26 Renault Master with a cutaway back and one-man basket. The boom is identical to that on the fully electric ZE with a working height of 11.8m and a working outreach of 6.5m. Its compact size and no outriggers make it user friendly across all industries. The diesel base vehicle can be driven like any other fuelled van, but this is switched off when working at height and the battery powers the boom. This is great for fuel saving and it is better for the engine as a diesel engine is not designed to be idle for the time it takes to carry out the job.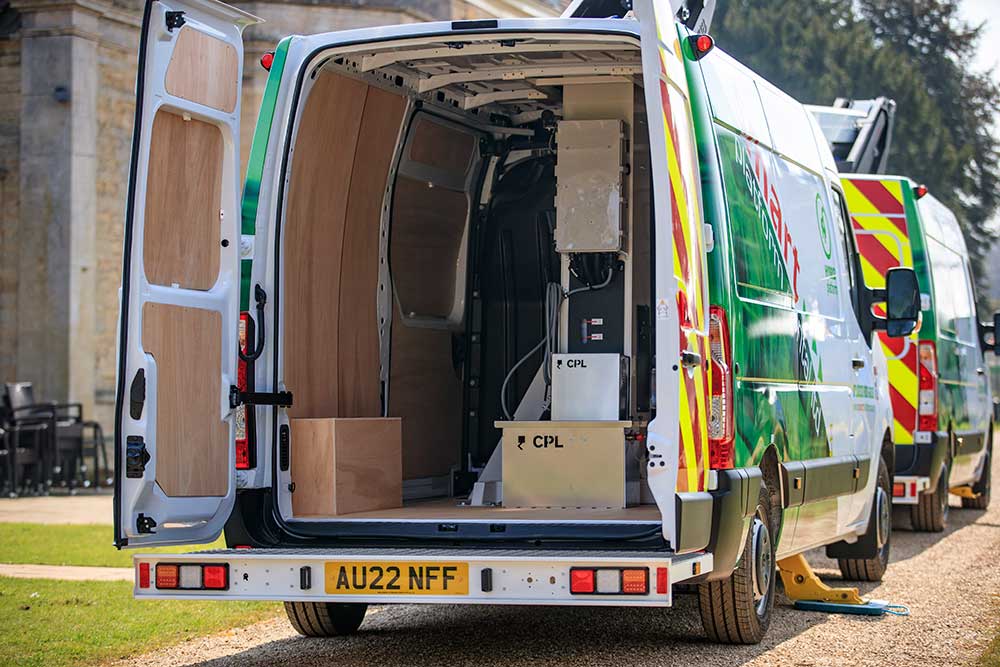 The K38p is also fast becoming a favourite for the rental market. With a 13.8m working height and up to 8m working outreach, these hybrid cherry pickers are the largest in the range on the 3.5t base van. The conversion has been designed with outriggers making it a more traditional version. It can be manufactured as a full van for a mobile workshop or as a cutaway for easier manoeuvrability.
If payload is the main factor for your fleet, the KL32 mounted on a 4.5t Renault Master is the option supplied to the UK's telecoms giants. The 11.9m working height is ideal for reaching all telephone poles while the cutaway design and no outriggers make it a simple set up and stow away process. Although cutaway, the 4.5t L3H2 characteristics allow for a full mobile workshop to be installed. This has saved the need for a secondary equipment vehicle shadowing the MEWP. Not only is this cost saving but one diesel van with an electric boom is half the pollution of 2 vans.
CPL and the Klubb Group understand your challenges and are constantly working on our hybrid and electric range. If you would like any further information or have a suggestion regarding our current range, Contact Us to discuss.