Let's look at the access equipment best fit for your territory
Anna Ramsden
As CPL has grown, we have begun to see territory trends for our access equipment.
If you are unsure of the best type of platform for your work at height and the terrain you work on, let us share with you the trends we are seeing.
Beginning with London and the surrounding areas, we have seen a large rise in the number of van mounts designed with no outriggers being used for the fibre roll out. Due to the busy streets and fast pace of the City, we have seen an increase in popularity of the K26 legless van mount with the cutaway design. The boom boasts a working height of 11.8m and a working outreeach of 6.5m. Not only is the vehicle easier to maneuver due to the cutaway, the one man basket and no outriggers make it a great solution for speedy maintenance. This model can be build as a full diesel machine, a full electric machine and a hybrid. We offer Green Pack technology allowing the engine to be switched off while the boom runs off battery power.
If we look at Wales, we have seen a trend emerge for the Pick up P130. Not only is the boom capable of 13.1m working height and 6.2m working outreach, the 4×4 base vehicle will get you into all the rough terrain areas you may struggle to access in other access solutions. The main sectors we provide the P130 to are Arborists, Telecoms, Utilities and Rental as they are extremely versatile machines.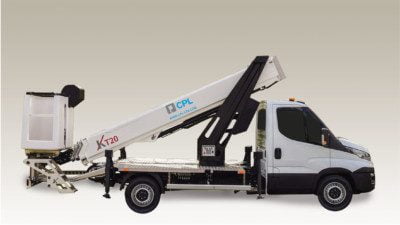 When we look at the north of the UK and in particular Scotland, we have seen a rise in the number of roofing companies in need of a chassis mounted solution. We offer 17m Cherry pickers, 20m access platforms up to 28m access equipment all mounted on 3.5t chassis. 
If you are unsure what you need for both the areas you are working in and the type of work you carry out at height, contact us. We will give you over the phone or face to face free advise on the best solutions on the market for you. Once you have the best equipment, you will become more efficient, you will be able to deliver more services and you will grow your company.