CPL is on the look-out for new staff
Anna Ramsden
Read the article from the Northamptonshire Telegraph promoting our Recruitment open day on Saturday 22nd July.
A Kettering firm that started out eleven years ago and has grown to become the top UK company in its field is on the hunt for new staff.
CPL, which converts standard trucks and vans for use by the utilities, telecoms and maintenance sectors, is set to turn over £40m this year. They specialise in creating bespoke vehicles to add cherry pickers and platforms that are used by big firms to work at height.
And after undertaking a big new project, the company is set to take on a fifth site on the Telford Way Industrial Estate.
So now, along with Corby-based Red Recruitment, the firm will host a recruitment open day to help find new staff.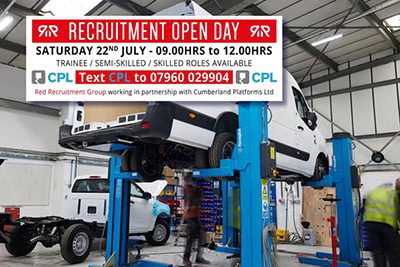 Chief executive Paul Murphy, who started the business with wife Michela, and still owns a stake in the firm after a buyout five years ago, said:
"We are still a family business. We pay a living wage and most of our workers are from Corby, Kettering and 
Harborough
. We've got a great bunch of people. It's a company that's nice to work for.
"We started in our original building at 38b Telford Way and we'll be looking for our fifth building in the coming year.
"Trade has just really increased in the past five years or so and now, especially with the huge rise in working from home, we've definitely been in the right place at the right time."
A seventy five per cent share of CPL, which was formerly known as Cumberland Platforms Limited, was sold in 2018, but Paul remained as the boss and turned over £8.6m that year. This year they'll turn over £42m, and their 100 workers will convert 700 vehicles.
They're hoping to find up to 20 more staff as they launch a new project shortly.
"We've got to find another site but we'd like to be employing about 120 in the next year or so," he said.
"We work closely with Mark McAllister at Red and we've done recruitment days before which have worked well, but we haven't been able to do one for a few years because of Covid.
"It's all about finding the right people. We're recruiting at all levels and wage brackets and it's OK if people have long notice periods or they're not looking for a new job right away. We've had people come along to these events that have gone on to work for us two or three years later.
"We'll offer people a challenge and people can progress up through the company.
"Our Operations Director worked her way up from the ground in five years. She's an absolute star. There's flexibility and we have part-time workers who have family commitments.
"If you're looking then please come along and have a chat to us."
The recruitment day takes place on Saturday, July 22, from 9am to noon. There are trainee, semi-skilled and skilled roles available in all departments. If you're interested, text CPL to 07960 029904.